The Essential Guide for Navigating the Social Security Disability Claims Process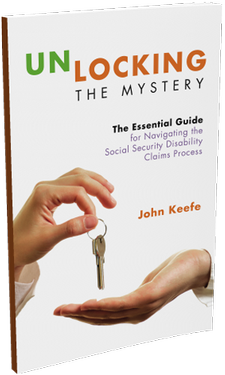 If you or a loved one is considering applying for Social Security Disability benefits because a physical or mental condition has made working impossible, you need to know what you are up against.
Applying for SSD or SSI benefits can be an arduous, difficult and frustrating process, and there are many opportunities for people to make major mistakes that can limit their ability to collect benefits or cause their claim to be denied entirely.
Get the information you need with this helpful book from Keefe Disability Law.
Since 1994, the attorneys and paralegals at the Keefe Disability Law Firm have successfully handled over 4,000 disability claims in Massachusetts, New Hampshire and Rhode Island. Their collective experience and expertise in the realm of Social Security Disability has been poured into this book, in hopes of shedding light on the various challenges people can expect to face when applying for benefits.
Information may be your biggest asset in what is undoubtedly a trying time for you and your family. By reading this valuable book, you'll better understand:
How to avoid the critical mistakes that sink many claims' chances of succeeding
The eligibility requirements that are in place for Social Security Disability
The basic steps for applying for Social Security Disability benefits
The various key items you'll need on-hand when you apply
How to properly fill out a Disability Report
The process of appealing a denied claim before the deadline
The benefits of having an experienced disability attorney on your side
It is common for people new to the disability claims process to have questions, such as those regarding how long it takes for the claims process to be completed, and if there are ways to speed up that process. Those questions, as well as many more, are answered in this brand new book.
No one should have to go through the Social Security claims process alone
– and you don't have to.

Learn how to avoid the problems so many applicants run into when applying for Social Security Disability by requesting your free copy of Unlocking the Mystery: The Essential Guide for Navigating the Social Security Disability Claims Process. Learn how to steer clear of the traps that snare so many applicants' Social Security Disability claims.

Don't delay – get your free book today by filling out the contact form on this page.