Five Most Frequently Asked Questions about Social Security Disability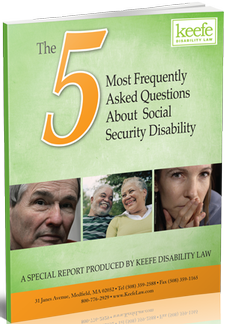 ATTENTION: In all probability, you are visiting this website because you or a loved one is suffering from a physical or mental condition that makes working impossible, and you are turning to Social Security disability for help. If so, it is vitally important that you read the valuable information located in this special report from Keefe Disability Law.

The Social Security disability claims process can be a tricky and complex system to understand, that often creates many questions for potential claimants.

This information-packed, easy-to-understand report from the Keefe Disability Law Firm helps ease the stress of a complicated benefits system by answering the five most common questions about Social Security Disability, including:
How to properly begin the process of applying for Social Security Disability benefits
How long before you can expect a decision to be made on your claim
Ways to speed up the claims process
How to properly file an appeal if your claim is initially denied
The value of an experienced attorney when dealing with the claims process

Applying for Disability Insurance Benefits (DIB) or Supplemental Security Income (SSI) can be extremely challenging and grueling without the right tools. On top of the physical or mental condition that is keeping you from working, you are also dealing with the stress of applying for benefits and, if initially denied, figuring out how to navigate the difficult process of submitting an appeal on time.

This is a critically important juncture for you and your family. You should not have to go through this process alone. Read through this free report and get a firm grip on the basics of Social Security Disability before applying.

Do not delay. Request your free copy of The Five Most Frequently Asked Questions About Social Security Disability.